Custom Jewelry Designs
Design Your Own Ring • CAD Renders• 3D Modeling

Northern Minnesota's Largest Custom Jewelry Designer and Manufacturer

Custom jewelry is one of the many things we do well at Ken K. Thompson, and we've been northern Minnesota's largest custom jewelry designer and manufacturer for 4 generations of jewelers.
From custom one-of-a-kind hand carvings to 3D renders, and wax models you can actually try on before you buy, Ken K's keeps you involved in all aspects of the custom design process to ensure you love your new piece of jewelry!
Inspiration for the project can start with a picture, an existing piece of jewelry, or diamonds that have been handed down through generations. We can re-create any design you've seen, and that includes any style from a designer brand or the big box stores. Best of all, our custom design keeps you in control of the entire process so you get exactly what you want.
We can't wait to talk with you about your next custom design!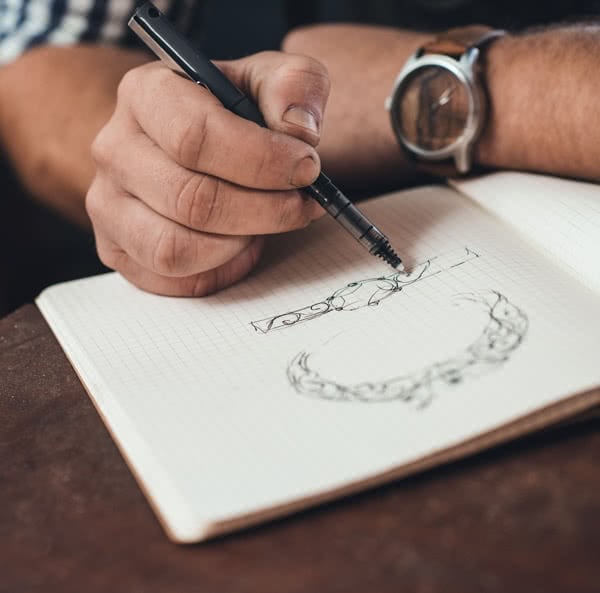 Step 1: Drawing
This is where your next piece of custom jewelry starts! Combine your favorite design elements to create a piece of jewelry that's unique to you. Choose from hundreds of in stock diamonds or gemstones, or use your heirloom diamonds. You bring the inspiration, and we'll get the process started!
Step 2: CAD
Unsure what your jewelry is going to look like? The CAD design is our favorite part of the entire process because it helps you visualize what your next piece of jewelry will look like. CAD drawings are completely free at Ken K's, and they allow you to put that individual touch in your nect jewelry design.
Step 3: Wax
Creating a one-of a kind wax allows you to experience what your next piece of jewelry will feel like. This is the final step before the jewelry is created, and it's your chance to make any changes to the design before it's made in yellow gold, white gold, platinum, or palladium.
Step 4: Finished Piece
It's what you've been waiting for! Your finished piece of jewelry is meticulously finished, polished, and hand-set with beautiful gemstones or diamonds. Unique to only you, Ken K. Thompson Jewelry does not duplicate any custom jobs, and that ensures you'll be the only one with your brand new custom design!
---
Get Inspired
---
Custom designs are unique to each person, and you should be no different!